Maja Delak in Luka Prinčič: "WIRELESS FEELINGS by The Sweetest Band"
recorded live at Transmittance1, Polis Festival, Pula, Croatia on 27th June 2011
download:
WIRELESS_FEELINGS_by_The_Sweetest_Band.oga
WIRELESS_FEELINGS_by_The_Sweetest_Band.mp3
performed by: Marko Bolković (bass guitar, laptop, keyboards), Maja Delak (voice, texts, laptop), Matija Ferlin (texts, voice), Messmatik (video), Luka Prinčič (guitar, laptop, keyboards, voice, video, programing)
edited by: Maja Delak
If the matter is just the energy laden with information, and identity is nothing but information, I will create as many identities as I can to connect with other identities. I will be able to chose who I wanna be and I will be able to project whatever I want onto the other identities. I could feel and see the distances modifying into the feeling of besside-ness and my virtual dream would become my physical space and landscape of my senses - inside me.
duration: 52.08 min
format: oga and mp3
licence: kopimi :)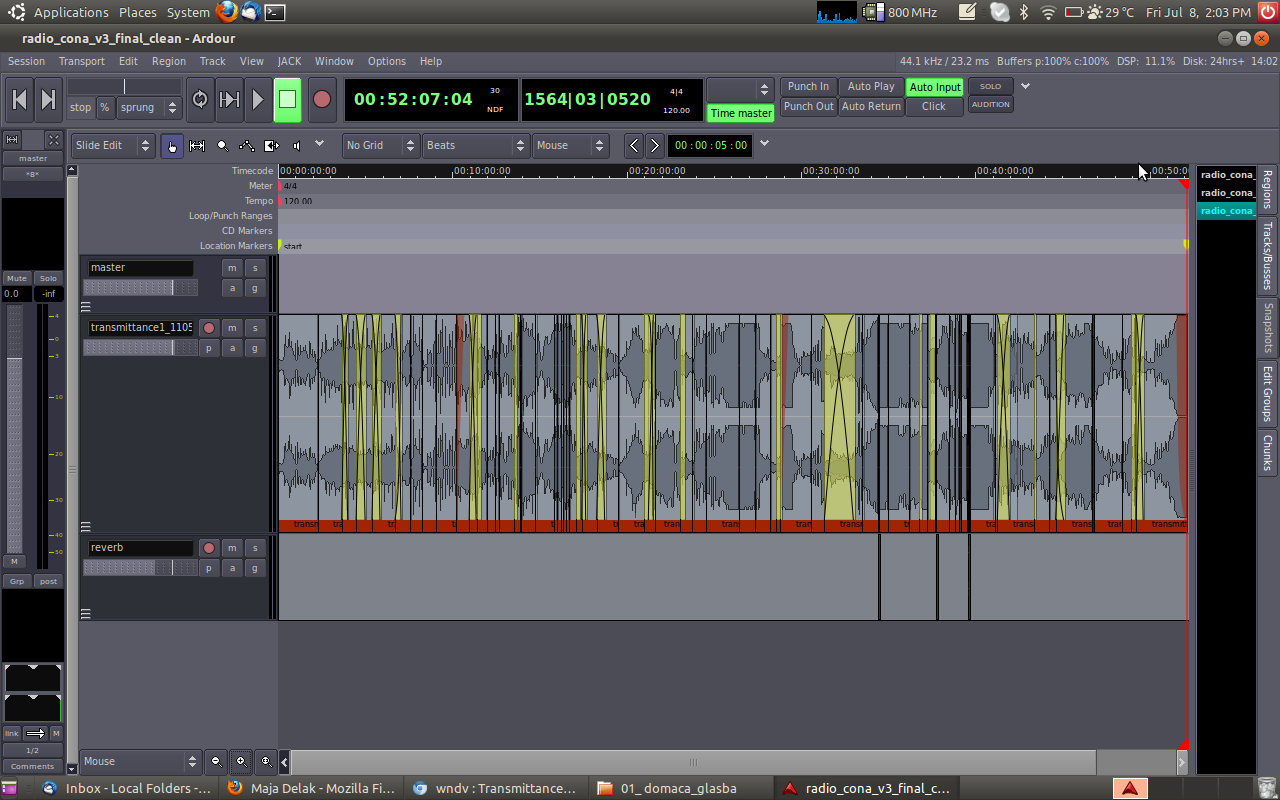 REVIEWS AND MEDIA
Ko zvok posebnega radia stopi v galerijo, Luka Zagoričnik, Delo, 08.12.2011



WIRELESS FEELINGS by The Sweetest Band:
- 07-15/12/2011 Radio Arts Space
exhibition space1: FM frequency: 88.8MHz Ljubljana / radioCona stream
exhibition space2: ŠKUC gallery Ljubljana
listening room 1: Pixxelpoint festival
listening room 2: international broadcast partners: all listening rooms (NRBG, Beograd; ROMA. RADIO. ART. FAIR, Roma; RAM LIVE, Roma; Mikro FM / Colaboradio, Berlin; NAWG, New York)
- 01-18/12/2011 6th edition Streaming Festival; WIRELESS FEELINGS by The Sweetest Band