Maja Delak, Matija Ferlin, Luka Prinčič and Maja Smrekar: "Folding Margin"
recorded at Neforma 9, event organized by Zavod Sploh, Ljubljana, Slovenia on 10th February 2011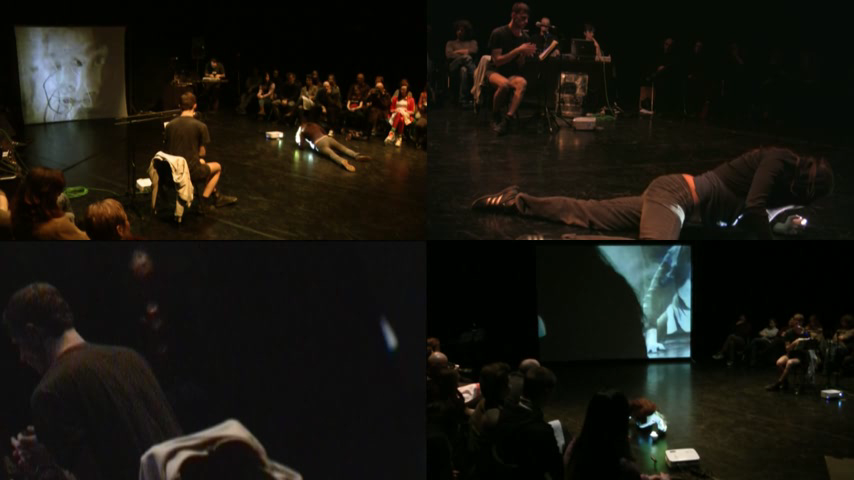 "what always matters is folding, unfolding, refolding."
"And then on the other side, there are these folds in the soul, where inflection becomes inclusion (just as Mallarme writes that folding becomes layering): we're no longer seeing, we're reading."
"Folding and unfolding, wrapping and unwrapping are the constants of this [...] setting 'between' two arts, between painting and sculpture, between sculpture and architecture, that seeks to attain a unity of arts as 'performance', and to draw the spectator into this very performance."
"Language is not information or communication, but prescription, order and command. You will be on the margin. It's the centre that makes the margin."

download: http://wndv.si/repo/110210_folding_margin_full_docu_854x480.ogv (665M)
duration: 59.36 min
licence: kopimi :)
Folding Margin
performed by: Maja Delak (movement, texts, laptop), Matija Ferlin (movement, texts), Luka Prinčič (laptop, video, programing), Maja Smrekar (video, lights)
edited by: Luka Prinčič
produced by: Zavod Sploh
in collaboration with: Španski borci, Emanat